Pamela Wedekind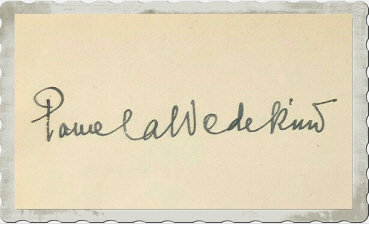 1906 - 1986
.
.
The actress Pamela Wedekind was born as the daughter of the author Frank Wedekind and the actress Tilly Newes.

So her future career was shaped very early and she became a well-known actress and singer.

She had her first successes on stage at the side of Erika and Klaus Mann as well as Gustaf Gründgens with the plays "Anja und Esther" and "Revue zu Vieren".
The author of these plays was Klaus Mann with whom she was engaged for nearly four years. But in 1930 she got married with the author Carl Sternheim.

Gustaf Gründgens engaged her for the Prussian Staatstheater in 1934 where she appeared regularly till 1942.
Afterwards she appeared on stages in Hamburg, Munich and Cologna.

She became also very popular with her chansonsat cabarets where she also performed songs of her father.

She impersonated her first movie role in 1938 in "Yvette" (38), it followed the production "Bal paré" (40).

It lasted 15 years before Pamera Wedekind acted again in front of the camera.
To her few postwar movies belong "Der grüne Kakadu" (55), "Der Herr mit der schwarzen Melone" (60) and "Hereinspaziert...Die Zirkuswelt des Frank Wedekind" (64).

Pamela Wedekind was married in second marriage with the actor Charles Regnier.