Josef Viktora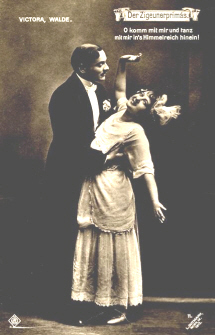 Foto: Ludwig Gutmann (1869-1943)

ca. 1879 - 1954
.
.
The actor and singer Josef Viktora (also credited as Josef Victora) began his career at the Kaiserjubiläumstheater in Vienna in 1900. In the next years followed engagements at the Theater in der Josefstadt, at the Stadtheater Breslau, in Berlin and at the Deutsches Landestheater in Prague.
There he normaly was playing as a character comedian in operettas.

1933 war er zudem Spielleiter und Schauspieler am Neuen Lustspielhaus in Wien.

He already acted in front of the camera in 1912 for "Zweierlei Blut" (12). In this movie he played the role of first lieutenant Graf Robert Stilfried under the direction of Jacob and Luise Fleck. To his co-stars belonged Mela Schwarz and Thekla Braun.

His last cinematical works came at the end of the 10s into being.
To these productions belong "Maria Magdalena" (18) with Hermann Benke, Anton Edthofer and Karl Ehmann, "Gespenster" (18) with Anton Edthofer, Grit Haid, Karl Ehmann, Erika Wagner and Karl Baumgartner, again for Jacob and Luise Fleck "Freier Dienst" (18) playing the role of Oberast Riedel with Max Neufeld, Theodor Weiss, Grit Haid, Karl Ehmann and Anton Edthofer, "Petis Geige" (19) with Grete Lundt, "Der Diamant des Todes" (19) with Josef Schildkraut, Grete Lundt, Franz Herterich and Werner Kahle, as Garzarrah in Otto Kreisler's "Die Jüdin von Toledo" (19) with Franz Höbling, Leopold Iwald, Theodor Weiss and Josef Jarno as well as "Mephistos Faschingslaune" (19) at the side of Lya Ley.