Vally Vera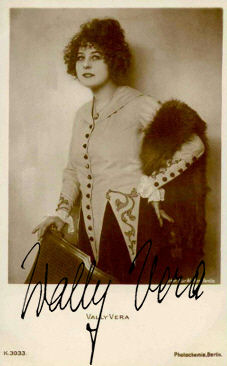 Foto: Mac Walten (1872-1936)

? - ?
.
.
The actress Vally Vera took part in only few movies during the silent movie era.

Her first appearance in front of the camera was for "Veras Eifersucht" (19) at the side of Gustav Adolf Semler who played her husband.

It followed the role of Mary in "Die Teufelskirche" (19) with Hans Mierendorff, Agnes Straub, Paul Rehkopf, Karl Etlinger and Fred Immler.

In her last movie "Die büssende Magdalena" (22) she impersonated the title role under the direction of Rudi Bach. To her co-stars belonged Else Bommey and Paul Hardtmuth.