Miriam Verne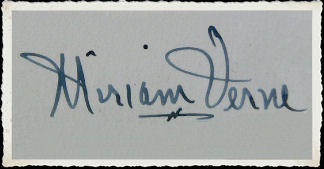 1920
.
.
The dancer Miriam Verne was born as Miriam V. Staley. She experienced the height of her career in the 30s and early 40s when she appeared in different lays with her dancing abilities.

At the age of only 16 she already made her film debut in the American short movie "Going Native" (36). Her second movie followed two years later in Germany with "Verliebtes Abenteuer" (38) at the side of stars like Olga Tschechowa, Paul Klinger and Georg Alexander.
Her performances on stage in Germany were noted by British newspapers because there was a special guest during her appearance in the play "Die lustige Witwe" in 1939 who became one of her admirer - this was Adolf Hitler.
Miriam Verne and other members of her group were invited to several occasions of Hitler. This originated the British newspaper to create a romance between them. Germany was not in state of war at that date.

After her return to the USA she said to these articles that Hitler treated her like a little child and that the credited romance with Hitler was ridiculous. He did not show more interest to her than to other artists but there were moments when he looked at you that you could recognise he was fanatic.

Miriam Verne continued her dance career and used the pseudonym Nancy Hunt for the English speaking region.
In 1942 she got married Lieutenant William C. DeLaney.