Alice Verden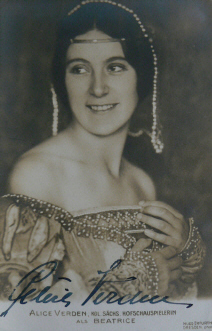 Foto: Hugo Erfurth (1874-1948)

1885 - 1956
.
.
The actress Alice Verden grew in an artistic ambitious family. Her father was the baritone Georg Brandes. Her sisters Margarethe Brandes and Helene Brandes became both opera singers, her sister Wilhelmine Brandes became an actress.

Alice Verden began her stage career in 1902 in Hanau where she remained busy till 1904. It followed engagements in Cologne and Dresden and finally she achieved the status of a royal Saxon actress. Sie concentrated to her stage career where she impersonated numerous roles, among others Lady Capulet in "Romeo and Juliet".

She made her film debut in 1921 for the movie "Der Geiger von Meissen" (21) at the side of Erich Ponto and Alexander Wirth.

But it lasted till 1947 before acted again in front of the camera and she impersonated several support roles in productions like "Zwischen gestern und morgen" (47), "Liebe '47" (49), "Heimatglocken" (52), "Zwei Menschen" (52), "Die Mühle im Schwarzwäldertal" (53), "Pygmalion" (56) and "Die Fahrt ins Blaue" (56).