Georges Vaultier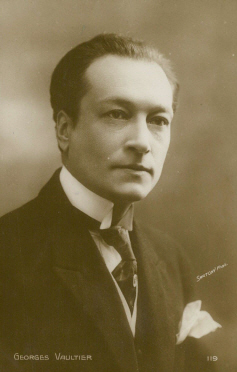 Foto: Sartony (1835-ca. 1900)

1885 - 1926
.
.
The actor Georges Vaultier began his film career in France with the silent movies "L'enfant roi" (23) als Comte de Fersen with Andrée Lionel and Louis Sance, as Grand-duc Frédéric de Lautenbourg in "Koenigsmark" (23) at the side of Huguette Duflos, Jaque Catelain, Maurice Lehmann and Ivan Petrovich and playing the role of John Pick in "Les ombres qui passent" (24) with Ivan Mosjukin, Nathalie Lissenko and Henry Krauss.

Finally he impersonated the role of roi Louis XV in the German major production "Auf Befehl der Pompadour" (24) with stars like Alwin Neuss, Lya Mara, Frida Richard, Hans Albers, Jakob Tiedtke, Robert Leffler, Alphons Fryland and Paul Biensfeldt.

Afterwards followed few more French movies with "Le fantôme du Moulin-Rouge" (25) directed by René Clair with Albert Préjean and Sandra Milovanoff as well as "Âme de femme" (26) with Nina Orlova.