Tzwetta Tzatschewa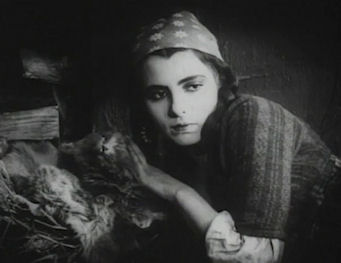 Lichtbild aus "Marizza" 1921

1900 - 1969
.
.
The actress Tzwetta Tzatschewa was born in Peschtera and she grew up in Sofia.
Like her sister Manja Tzatschewa she went to Berlin where she already impersonated the title role in her first movie in"Marizza, genannt die Schmugglermadonna" (21) directed by Friedrich Wilhelm Murnau. To her co-stars belonged Adele Sandrock, Harry Frank, Hans Heinrich von Twardowski, Leonhard Haskel, Greta Schröder and Maria Forescu.

It followed "Der heilige Hass" (21) directed by Manfred Noa with Walter Wolff, Jack Mylong-Münz and Adolf Hille, "Marizza" (21) as well as Otto Rippert's "Tingeltangel" (22) at the side of Arnold Korff, Friedrich Kühne, Hugo Döblin, Magda Madeleine and Karl Geppert.

Her last cinematical work came into being with "Die Tragödie eines Verlorenen" (27) directed by Hans Steinhoff with Alfred Abel, Helga Molander, Ralph Arthur Roberts, Sophie Pagay, Kurt Gerron, Philipp Manning and Paul Rehkopf.

Tzveta Tzacheva was married in her first marriage to the actor George Alexander. Her sister Manja Tzatschewa was although an actress, her brother Iwan Tzatscheff alias Mario Parlo was an opera singer.