Erich Thormann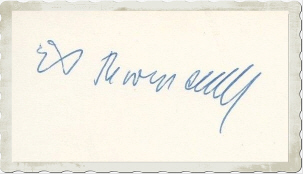 1899 - 1989
.
.
The actor Erich Thormann took part in few movies from the 30s.

He impersonated his first movie roles in the productions "La Paloma" (34) with Charles Kullmann, Leo Slezak, Fritz Kampers and Jessie Vihrog, Richard Eichberg's "Der Kurier des Zaren" (36) at the side of Adolf Wohlbrück, Lucie Höflich, Maria Andergast, Alexander Golling, Hilde Hildebrand, Kurt Vespermann, Theo Lingen and Bernhard Goetzke as well as "Die Entlassung" (42) directed by Wolfgang Liebeneiner with Emil Jannings, Margarete Schön, Christian Kayssler, Theodor Loos, Karl Ludwig Diehl, Werner Krauss, Werner Hinz, Paul Bildt and Franz Schafheitlin.

Erich Thormann continued his film career after the war but his appearances in front of the camera remained seldom.
To his last cinematical works belong "Moral" (58), "Ein wahrer Held" (61), "Der Reichstagsbrandprozess" (67) and "Anna Böckler" (68).

In 1963 he realised his only TV movie as a director with "Das Telefon" (63).