Willy Thaller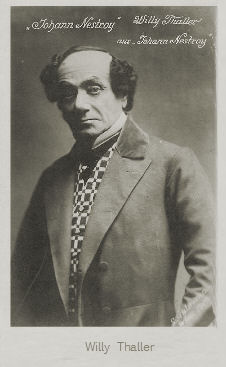 Foto:Ludwig Gutmann (1869-1943)
1854 - 1941
.
.
The actor Willy Thaller was well-known as a stage actor and as an opera singer.

He made his first stage experiences as a child at the Stadttheater Graz where he was also engaged regularly as an adult. Later followed appearances at different theaters in Vienna and finally he went on tour through the USA which led him to cities like Chicago, Philadelphia and New York.

Back in Europe he acted at the Deutsches Theater in Prague and at the Burgtheater in Vienna.

Willy Thaller only appeared seldom in movies.
His first cinematical work came in 1915 into being with "Mutter Sorge" (15) directed by Jacob and Luise Fleck.

It lasted twelve years before he appeared in front of the camera again. He played the role of the colonel Manzani in the production "Seine Hoheit, der Eintšnzer" (27) at the side of Bruno Kastner, Anny Ondra, Robert Valberg and Victor Kutschera.