Julius Szalit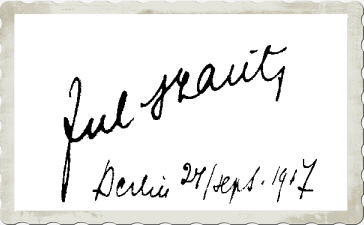 1892 - 1919
.
.
The actor Julius Szalit concentrated to the theater and only appeared rarely in front of the camera.

His first movie was "Der zehnte Pavillon der Zitadelle" (17) directed by Danny Kaden. To his co-stars belonged Blandine Ebinger, Marga Köhler, Emil Jannings, Victor Janson and Julius Falkenstein.

Afterwards followed the movie "In den Krallen der Ochrana" (17) - a Polish production with Kazimierz Junosza-Stepowski and Halina Bruczowna in the leading roles.

Julius Szalit was married with the painter Rachel Szalit-Marcus. She was murdered in Auschwitz in 1942.

There are some sources which indicate his year of death in 1916. According to these sources he committed suicide in 1916 when he discovered that his wife had an affair with the painter Iser Weissberg.
But the date 1916 can be challenged because there are different information to Julius Szalit after 1916.
Among others there was mentioned the play "Raskolnikoff" with Julius Szalit at the Residenztheater on December 23, 1917. In the "Berliner Illustrierte Zeitung" from February 17, 1918 they referred to the play "Der junge Zar" with Julius Szalit.
The screen writer Carl Mayer advertised his new movie star Gilda Langer in 1917 and announced a Langer serial with the actors Gilda Langer, Rosa Valetti, Julius Szalit and Julius Falkenstein.

Rather Julius Szalit died in 1919 according to a text by Alfred Kerr from the beginning of August 1919.