Leopold Strassmayer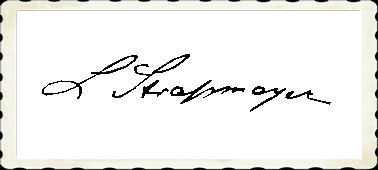 1846 - 1927
.
.
The actor Leopold Strassmayer was active at the theater in the first place and he only appeared seldom in front of the camera.

His first movie was "Frau Annas Pilgerfahrt" (15) where he played the role of Poldi Hinterhuber. To his co-stars belonged Wilhelm Diegelmann, Karl Harbacher, Fritz Junkermann, Anna Müller-Lincke and Albert Paulig.

In Emil Leyde's "Einen Jux will er sich machen" (16) he played Melchior at the side of Ida Russka, Poldi Müller, Paul Morgan and Max Brod.
Afterwards he appeared in the movie "Viererzug" (17) directed by Carl Wilhelm with Hilde Radney, Richard Waldemar, Paul Morgan and Gisela Werbezirk.

His last cinematical works came in the 20s into being with "Bruder Martin" as mendicant Marin with Eugen Jensen and Viktoria Pohl-Meiser and "Die Stadt ohne Juden" (24) playing the role of Mr. Huxtable with Johannes Riemann, Hans Moser, Eugen Neufeld, Hans Effenberger and Gisela Werbezirk.