Lisbeth Steckelberg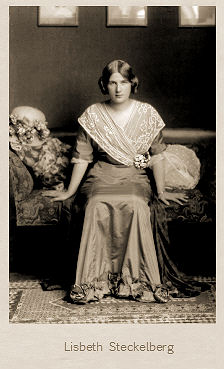 Foto: D'Ora Kallmus (1881-1963)
Mit freundlicher Genehmigung
Österreichische Nationalbibliothek Copyright

? - ?
.
.
The actress Lisbeth Steckelberg was busy on stage in the first instance. She only appeared in movies sporadically.

Her first performance in front of the camera was playing the role of Nettl in "Johann Strauss an der schönen blauen Donau" (13) directed by Karl Zeska. To her co-stars belonged Karl Zeska (as Johann Strauss), Hansi Niese, Luise Kartousch and Richard Waldemar.

Afterwards followed two more movies - "Frau Gertraud Namenlos" (14) directed by Jacob Fleck with Hansi Niese and Max Neufeld as well as "Prof. Satanell" (17) directed by Emil Justitz.

Beside it she was active on stage. Because she was married with the Jewish actor and singer Frieirch Deutsch since 1919 she was not able to work in the 30s without a special permit. If she got one is not known.