Karl Schöpfer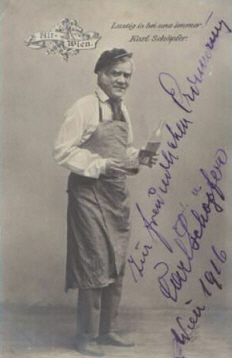 1868 - 1942
.
.
The actor and singer Karl Schöpfer was active on stage in the first line.
He made his stage debut under Alfred Schreiber. As an operetta comedian he was very successful at the Badner theater, later followed engagements in Teplitz-Karlsbad and Vienna.

He only appeared seldom in front of the camera. His first movie was "Dr. Hallin" (21) in which he played the criminal Artner directed by Alfred Lampel. To th co-stars belonged Franz Herterich and Traute Carlsen.

One year later followed his last cinematical work with the silent movie "Das Spiel ist aus" (22) directed by Hans Otto at the side of Ludwig Hartau, Albert von Kersten and Tini Senders.