Fritz Soot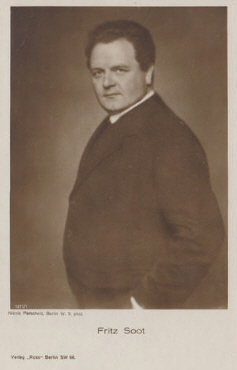 Foto: Nicola Perscheid (1864-1930)
1878 - 1965
.
.
The actor and singer Fritz Soot became well-known to a huge audience as a tenor and he had his most successful period in the 20s and 30s.

He studied vocals from 1900 and during this studies he already became a member of the Grossherzoglichen Hoftheater in Karlsruhe.
After the completion of his vocal studies he made his professional debut as a tenor in 1908.

He soon became a popular singer of often was brilliant in opera plays of Richard Wagner. He achived the status as an opera star for good when he was engaged by the Berliner Staatsoper in 1922. He remained true to this domain for 22 years.

His career also led him outside Germany, among others to London too where he appeared at the legendary Covent Garden Theatre.

Because of his popularity Fritz Soot was also engaged sporadically in movies for smaller parts where he impersonated singers naturally.
His first appearance in front of the camera was for the short movie "Die Gesangsstunde" (35) with Adele Sandrock.

In the 40s followed two more movies with Fritz Soot. In "Der Weg ins Freie" (41) He played a singer again at Zarah Leander's side and with "Altes Herz wird wieder jung" (43) with Emil Jannings, Maria Landrock, Viktor de Kowa and Elisabeth Flickenschildt came his last movie into being.

Despite his age Fritz Soot tried to continue his singing career after World War II. But he was not able to go on from his former successes. At the age of 74 he retired in 1952.