Emmy Sonnemann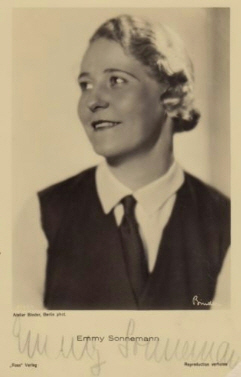 Foto: Alexander Binder (1888-1929)

1893 - 1973
.
.
The actress Emmy Sonnemann was born into a wealthy family. When the young Emmy became interested in acting she got acting lessons by Leopold Jessner in Hamburg. After her education she could start her stage career in 1910.
She soon got numerous theater engagements, among others in her hometown Hamburg, Munich and Vienna.

In the next years she appeared regularly on German stages. In 1916 she got married with the actor Karl Köstlin but the marriage was divorced ten years later.

Finally Emmy Sonnemann met the Prussian premier Hermann Göring. They got along well and Göring supported her stage career and provided an engagement for her at the Staatstheater Berlin.

Also in the 30s Emmy Sonnemann was able to take part in few movies, her first one was "Goethe lebt...!" (32) with Friedrich Kayssler, Heinrich George and Frida Richard.
Her next movie was "Wilhelm Tell" (34) in which she played the role of Hedwig Tell. To her co-stars belonged Hans Marr, Conrad Veidt and Eugen Klöpfer.
Her last movie was "Oberwachtmeister Schwenke" (35) directed by Carl Froelich with Gustav Fröhlich, Marianne Hoppe and Karl Dannemann.

When she got married with Hermann Göring in 1935 she retired from her acting career. Hermann Göring rose as Reichsmarschall to one of the most powerful political figures of the National Socialists and his family lived in privileged comfort. Emmy Sonnemann became together with Magda Goebbels a First Lady so to speak.

When the war went lost the illusory world of the Görings collapsed. Hermann Göring was arrested and sentenced to death in 1946. He abdicated from the death warrant by suicide.
Emmy Sonnemann was arrested too and they convicted her of one year in a labor camp. Furthermore she was not allowed to work as an actress for several years.

She published her biography "An der Seite meines Mannes" in 1967.