Mimi Shorp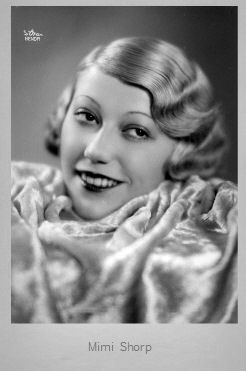 Foto: D'Ora Kallmus (1881-1963)
Mit freundlicher Genehmigung
Österreichische Nationalbibliothek Copyright

1905 - 1974
.
.
The actress and singer Mimi Shorp was able to gain a foothold in the film business after first successes as a singer. She made her film debut with "Nocturno" (34) playing the role of Lilli.

In the next years followed other movies like "Eva" (35), "Zauber der Bohème" (37), "Geld fällt vom Himmel" (38), "Flitterwochen ohne Mann" (39), "Prinzessin Sissy" (39) and the short movie "Hilfe, Erpresser" (39).

She was able to continue her career during World War II and she took part in the productions "Das jüngste Gericht" (40) as Fritzi Strohmeyer, "Donauschiffer" (40) and "Das Herz muss schweigen " (44) impersonating the role of Maria.

He last cinematical works came into being after the war with "Triumph der Liebe" (47), as Soubrette Betty Black in "Wir haben eben geheiratet" (49) and "Hallo Dienstmann" (52) with Hans Moser and Paul Hörbiger.