Grete Sellin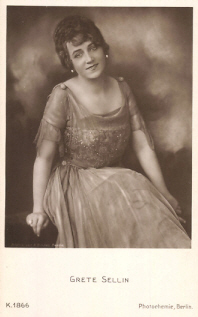 Bild: Alexander Binder (1888-1929)

? - ?
.
.
The actress Grete Sellin appeared in front of the camere for the first time in 1918 for the productions "Keimendes Leben" (18) and "Ein nächtliches Ereignis" (18).
It followed the silent movie "Moral und Sinnlichkeit" (19).

At the beginning of the 20s she took part in few other movies like "Sie oder keine" (20), "Wenn Lehmann bummeln geht" (20) and "Die Sünden der Mutter" (21).

After a longlasting interruption she returned to the big screen for a last time.
For "Land der Liebe" (37) she acted in her only sound film.