Eduard Sekler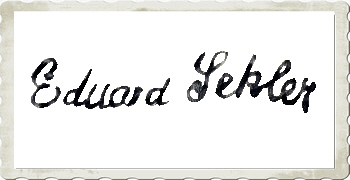 1880 - 1976
.
.
The actor Eduard Sekler joined the film business in 1914 where he took part in the production "In Zivil" (14).
It followed other cinematical works with "Lebenswogen" (17), "Der Verschwender" (17), "Der Schandfleck" (17), "Der Doppelselbstmord" (18), "Der König amüsiert sich" (18), "Rigoletto" (18), "Don Cäsar, Graf von Irun" (18) and "Die Ahnfrau" (19).

He appeared in other silent movies in the 20s like "Sein Lebenslicht" (21), "Die Frau in Weiss" (21), "Hemmungslos" (21), "Klein Bobby auf der Fährte" (21) and "Der Pfarrer von Kirchfeld" (26).

Afterwards he concentrated to his theater career, only in 1947 he returned in front of the camera for "Die Welt dreht sich verkehrt" (47).

His last movie was "Das vierte Gebot" (50).