Mela Schwarz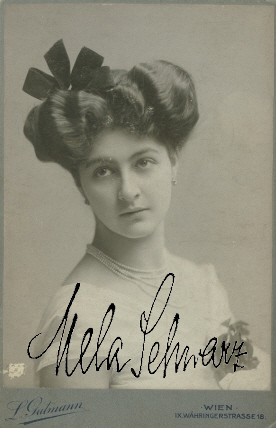 Foto: Ludwig Gutmann (1869-1943)

1888 - 1976
.
.
The actress Mela Schwarz was active in the silent movie era of the 10s for a brief time.

In her first movie "Zweierlei Blut" (12) directed by Luise and Jacob Fleck she impersonated the role of comtesse Mizzi at the side of Josef Viktora and Thekla Braun.

In "Das erste Weib" (15) she played the role of Plicla under the director of Hubert Marischka. To her co-stars belonged Hubert Marischka, Marie Radnay, Camilla Gerzhofer, Eugen Jensen and Magnus Stifter.

As Amalia she appeared in Hans Otto's "Der Glücksschneider" (16) with Rudolf Schildkraut, Josef Schildkraut and Mizi Griebl.

To her other movies belong "Die Laune eines Lebemannes" (19) with Fritz Sachs, "Am Weibe zerschellt" (19) directed by Franz Osten with Else Bodenheim, Erich Kaiser-Titz and Ewis Borkmann, "Aus Liebe gesündigt" (19) directed by Franz Osten as well as "Hyänen der Welt" (21) at the side of Dary Holm and Julius Stettner.