Lona Schmidt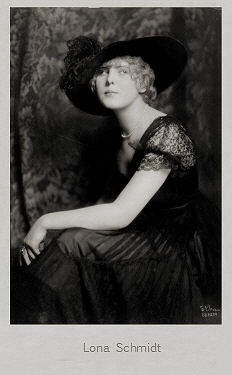 Foto: D'Ora Kallmus (1881-1963)
Mit freundlicher Genehmigung
Österreichische Nationalbibliothek Copyright

? - ?
.
.
The actress Lona Schmidt was able to launch a film career beginning in the 10s and which was limited to the silent movie era.

She made her film debut with "Das zweite Leben" (16) at the side of Fritz Kortner and Carl Goetz.

In the next years followed "Wenn die Frau nicht kochen kann" (17), "Das Glück der schönen Creszenz" (17) and "Der Narr seines Herzens" (19).

The 20s offered her again numerous movie roles and Lona Schmidt took part in the productions "Die Geheimnisse von London" (20), "Im Banne der Kralle" (21), "Das Paradies im Schnee" (23), "Komödianten des Lebens" (24) and "Die Brücke der Verzweiflung" (25).