Katharina Schratt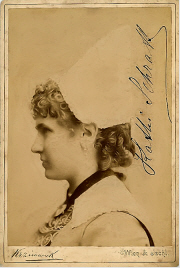 Foto: Rudolf Krziwanek (?-1905)

1855 - 1940
.
.

The actress Katharina Schratt was already fascinated by the theater at the age of six but her parents were not enthusiastic about her interest. But she followed her dream and at the age of 15 she appeared on stage for the first time.

After acting lessons she made her professional stage debut in 1872 at the Viennese Theater-Akademie in Baden. In the same year she was engaged at the Hoftheater in Berlin.
In the next years followed appearances at the Stadttheater vin Vienna and in 1883 followed guest performances in New York. After her return to Austria she became established at the Hofburgtheater in Vienna and she became one of the most popular theater actresses of Austria.

She retired from stage already in 1900. Thank to her friendship with the emperor Franz Josef I who supported her financially as well she was able to deal with her cost-intensive lifestyle.

Although she already lived in seclusion for many years Katharina Schratt accepted a role offer for a movie in 1920. In Franz Osten's "Der Ochsenkrieg" (20) she played at the side of Thea Steinbrecher, Fritz Greiner, Lia Eibenschütz, Fritz Kampers and Ernst Rückert in her only movie.