Vera Schwarz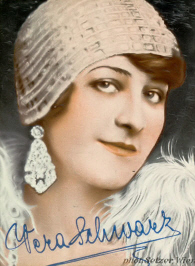 Foto: Franz Xaver Setzer (1886-1939)

1888 - 1964
.
.
The actress and singer Vera Schwarz became very popular as an opera singer in Austria and Germany.

After a vocal study she made her stage debut in 1980 at the Theater an der Wien where she took over a small role in an operetta.

In the same year followed the engagement at the Opera in Graz where she appeared regularly in the next four years. Other places followed which increased her popularity furthermore and which led her from Austria to Germany. In Germany she often appeared successfully together with the opera singer Richard Tauber.

But she still celebrated her greatest successes in Vienna where she impersonated many classical roles in well-known operas. Appearances in London, Amsterdam, Paris and Budapest followed.

Vera Schwarz already appeared in her first movie in 1920. In "Figaros Hochzeit" (20) she played the role of the countess under the direction of Max Mack. Her cast members were Alexander Moissi, Hella Moja and Eduard von Winterstein.

After a long lasting interruption followed her second movie in 1935 with "Henker, Frauen und Soldaten" (35) with Hans Albers and Charlotte Susa.

But before the movie was released Vera Schwarz had already left Germany because as a Jew she was no able to work there. She went back to Austria and appeared at the Viennese Staatsoper. But Austria was only an interstation of her banishment and after the annexation to the German Reich in 1938 she emigrated to England where she was able to continue her stage career.
Afterwards she went to the USA where she appeared again as a singer, among others in Chicago and San Francisco.

After the war she returned to Austria in 1948 back to her former domain. There she worked as a vocal teacher henceforth and in the 50s she even appeared in two more movies.
In "Wir tanzen auf dem Regenbogen" (52) she played a dancer at the side of Inge Egger and Karl Schönböck and in her last movie she impersonated a dancer again in "Der letzte Walzer" (53) directed by Arthur Maria Rabenalt with Curd Jürgens, O. E. Hasse and Eva Bartok.