Guido Schützendorf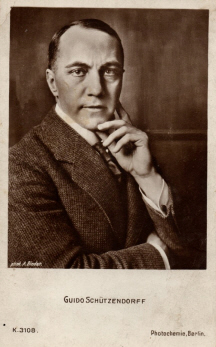 Foto: Alexander Binder (1888-1929)


1880 - 1967
.
.
The opera singer and actor Guido Schützendorf was born into an artistic family.
His brothers Gustav Schützendorf, Leo Schützendorf and Alfons Schützendorf became all singers.

Guido Schützendorf began his career in 1904 in Strassburg, later followed engagements as a singer in Coburg, Elberfeld, Gent, Bremen, Braunschweig, Magdeburg and Bielefeld.
A tour led him to the USA in 1929 where he remained active till 1930.

Because of his popularity Guido Schützendorf was also engaged for some movies and to his first appearances in front of the camera belong the movies "Nixenzauber" (18) as water sprite Kühleborn at the side of Eugen Rex and Fritz Hartwig, under the direction of Robert Leffler he impersonated the role of prince Edgar von Lobenstein in "Leben um Leben" (18) with Olga Desmond and he appeared in "Der Mut zur Sünde" (18) with Hans Albers and Olga Desmond.

In the following year came already his last cinematical works into being.
He took part in "Das Gelübde der Keuschheit" (19), appeared in two Karlchen movies with the leading actor Karl Viktor Plagge in "Karlchen auf der Brautschau" (19) and "Karlchen bei der Feuerwehr" (19) and he impersonated the title role in "Der fliegende Holländer" (19).

Guido Schützendorf was married with the singer Olga an der Mahr. His daughter Liselotte Schützendorf became a singer too.