Leopoldine Sangora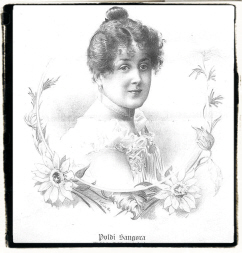 Bildnis: Jan Vilimek (1860-1938)

1875 - ?
.
.
The actress Leopoldine Sangora got an acting education by Louisabeth Röckel and afterwards she made her stage debut in Berlin. In the next years followed engagements in Potsdam, Riga, Leipzig, Vienna Hamburg und Frankfurt.

The theater remained her main activity field and she only appeared sporadically in front of the camera.

Her first movie was "Marodeure der Revolution" (19) with Kurt Ehrle and Max Gülstorff.
Two years later she took part in her last silent movie "Die Frau von morgen" (21) with Marija Leiko, F.W. Schröder-Schramm and Gustav Waldau.

Leopoldine Sangora only returned to the cinema during the sound film era of the 30s. She played support roles in "Glück im Schloss" (33) with Luise Ullrich, Eduar Wesener, Erik Ode and Paul Beckers and the role of the mother of Solveig in "Peer Gynt" (34) with Hans Albers, Lucie Höflich, Marieluise Claudius and Olga Tschechowa.