Friedl Sandner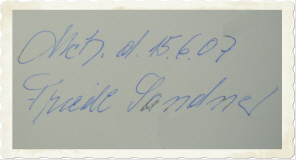 1912 - 2008
.
.
The actress Friedl Sandner was only active in the film business for few years.
She made her film debut with "Einmal eine grosse Dame sein" (34) where she impersonated the role of Franzi at the side of Käthe von Nagy, Wolf Albach-Retty and Gretl Theimer.

In the next years followed other support roles in feature and short movies. To these works belong "Ritter wider Willen" (34) with Erik Ode, Ernst Behmer and Fritz Odemar, "Wunder des Fliegens" (35) with Käthe Haack and the air ace Ernst Udet, "Befehl ist Befehl" (36) with the Munich comedian Weiss-Ferdl, Oskar Sima, Trude Hesterberg and Hubert von Meyerinck, "Besserer Herr sucht Anschluss (36) with Harald Paulsen and Klaus Pohl, "Der Schein trügt" (38) directed by Phil Jutzi with Walter Gross and Carsta Löck as well as "Fortsetzung folgt" (38) directed by Paul Martin with Viktor Staal, Oskar Sima and Gustav Diessl.