Georg Rückert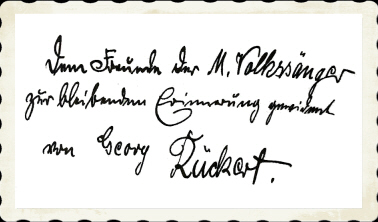 1878 - 1932
.
.
The actor Georg Rückert was active as a humorist on stages and he entertained the audience as a singer.
To his well-known co-stars at the theater belonged the legendary Karl Valentin and Lisl Karlstadt.

The duo engaged him for the silent movie "Karl Valentins Hochzeit" (13) in which Georg Rückert impersonated the role of the bride Mrs. Walzenberger.

It followed a role in the movie "Der verhängnisvolle Überzieher" (16) at the side of Lina Bach and Fritz Daurer.

After a longer interruption followed Georg Rückerts last appearance in front of the camera in 1929, again for the duo Valentin/Karlstadt.
In "Der Sonderling" (29) he played beside Karl Valentin and Lisl Karlstadt at the side of Truus van Aalten, Gustl Stark-Gstettenbaur and Ferdinand Martini.