Emanuel Reicher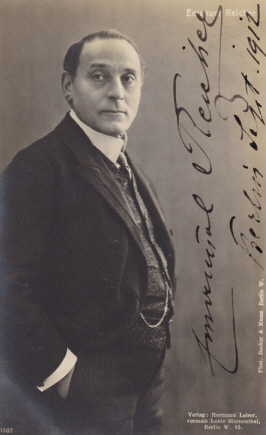 Foto: Becker & Maass (Atelier 1902-1938)

1849 - 1924
.
.
The actor and director Emanuel Reicher began his stage career at the theater inKrakau. From 1873 he appeared in Munich and shortly afterwards in Berlin.
There he became a successful actor in Shakespeare plays and he soon was regarded as one of the most important German stage actors.

Beside it he also gave acting lessons at the theater school of the Lessing theater.

Because of his big success he went to the USA before the breakout of World War I. There he communicated abot the dramatics of the German theater. He remained in the USA till 1923.

After his return to Germany he continued his stage career in Berlin.

Emanuel Reicher belonged to the co-founders of the "Freie Bühne" in 1889.

He was only rarely active in the film business.
Shortly before he went to the USA he took part in the production "Heimat und Fremde" (13) playing the role of Brodin at the side of Johanna Terwin, Ernst Reicher and Friedrich Kühne.

After his return he appeared again in front of the camera as archpriest Kaiphas in Robert Wiene's "I.N.R.I." (23) at the side of stars like Asta Nielsen, Henny Porten, Werner Krauss, Gregori Chmara, Alexander Granach, Bruno Ziener, Guido Herzfeld, Theodor Becker and Max Kronert.

Emanuel Reicher was married with the singer Hedwig Kindermann and with the actress Lina Reicher-Harf. His daughter Hedwiga Reicher became a movie actress in the USA, his son Ernst Reicher became a big movie star of the German cinema with his serial figure Stuart Webbs.