Georg Reimers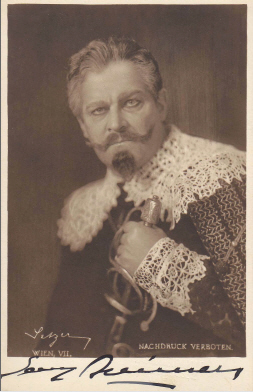 Foto: Franz Xaver Setzer (1886-1939)
1860 - 1936
.
.
The actor Georg Reimers already belonged gehörte to the leading theater actors in Austria for many decades when he sometimes took part in movies in the 10's.
To his first movies belong "Das Kriegspatenkind" (15), "Bogdan Stimoff" (16), "Das Verhängnis der schönen Susi" (17) and "Der Weg ins Freie" (17).

In the 20's followed the monumental film "Sodom und Gomorrha" (22). But his main activity was at the Burgtheater where he became the director from 1925.

To his numerous awars belong the title "Hofschauspieler" in 1890, the appointment as a company member for life in 1901 and the honorary membership in 1922.