Louis Rainer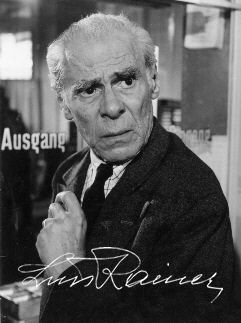 Foto: Praesens Film AG (P. Gassmann)

1885 - 1963
.
.
The actor Louis Rainer was born as Alois Rainer in Brixen.
He began his career at the theater where he remained active for many decades. His engagements led him among others to Zurich, the Deutsches Theater in Berlin as well as other theaters in Berlin, Vienna, Salzburg and especially Dresden.

He only appeared sporadically in movies, his first appearance in front of the camera was "Wenn die Musik nicht wär" (35).
In the next years he impersonated other movies roles in the productions "Menschen ohne Vaterland" (37), "Der ewige Quell" (40), "Der Fall Rainer" (42), "Der Mann, dem man den Namen stahl" (44) and "Tiefland" (45). The last mentioned movie, directed by Leni Riefenstahl, was only released in 1954.

The life of Louis Rainer during the time of the National Socialists was difficult because he was married with a Jewess. Therefore he only got offered movie roles rarely and he even had to apply for a special allowance to work at the theater.

Louis Rainer went to Switzerland after World War II where he continued his activity on stage. He even appeared once again in movie and he played a small role as an illegal immigrant in the movie "Der 10. Mai" (57).