Charlotte Radspieler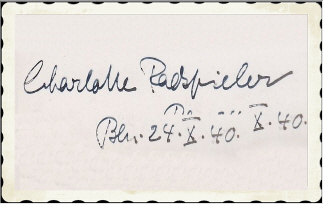 1910 - 1967
.
.
The actress Charlotte Radspieler first finished an acting education before she made her stage debut at the theater in Bamberg in 1933. In the next years followed other theater engagements in Germany.

She entered the film business in 1935 and in her first years she already impersonated numerous roles in movies like "Knockout" (35), "Der Schlafwagenkontrolleur" (35), "Grossreinemachen" (35), "Ehestreik" (35), "Henker, Frauen und Soldaten" (35), "Der Klosterjäger" (36) and "Spiel auf der Tenne" (37).

Afterwards she concentrated again to the theater, she only appeared seldom in front of the camera again. Till the end of World War II she only took parkt in the movie "Clarissa" (41) with Sybille Schmitz in the leading role.

Only after World War II Charlotte Radspieler reactived her film career for a brief time again. She took part in the productions "Sie kommen immer in der Nacht" (U54), "Streit um Percy" (54), "Der Prozess Mary Dugan" (56) and "Bestseller" (56).

Besides her activity as an actress she also dubbed American movies and was busy for the broadcasting.