Hilde Radnay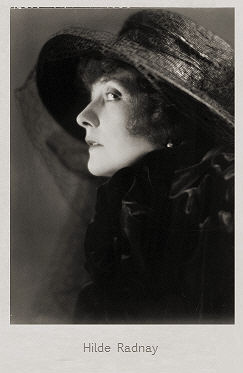 Foto: D'Ora Kallmus (1881-1963)
Mit freundlicher Genehmigung
Österreichische Nationalbibliothek Copyright

? - ?
.
.
The actress Hilde Radnay was busy on stage by the majority and she only took part in movies sporadically.

She made her film debut with "Der Millionenonkel" (13) directed by Hubert Marischka. In this movie she played the role of Else Waldersberg at Marischka's side.

To her other movies of that decade belong Carl Wilhelm's "Viererzug" (17) with Richard Waldemar and Paul Morgan as well as "Der Mandarin" (18) with Carl Goetz and Harry Walden.

Her last silent movies came in the 20s into being with "Gehetzte Menschen" (24) directed by Erich Schönfelder with Lucy Doraine, Johannes Riemann, Hans Albers, Rudolf Lettinger and Ilka Grüning, playing the role of Ria Verena in "Schicksal" (25) directed by Felix Basch with Lucy Doraine, Conrad Veidt, Lia Eibenschütz and Paul Bildt and finally as Juliette in "Eine Dubarry von heute" (27) with Maria Corda, Alfred Abel, Friedrich Kayssler, Jean Bradin and Hans Albers. The director of this movie was Alexander Korda.