Lotte Pritzel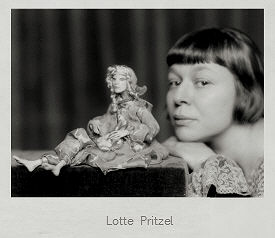 Foto: D'Ora Kallmus (1881-1963)
Mit freundlicher Genehmigung
Österreichische Nationalbibliothek Copyright

1887 - 1952
.
.
The puppet artist Lotte Pritzel was well-known for the creation of dolls which were composed of wax and fabric. Beside it she also worked as a draftswoman and costume designer.

Her works found huge favour and there were many articles about her creation. Her dolls fascinated with thin legs, a out, accentuated eyes and luscious wigs. Her works were known till to the USA and her popularity was demonstrated by the fact that there was shot a documentary movie in 1923 called "Die Protzelpuppe" (23). Beside Lotte Pritzel there also took part the actress Blandine Ebinger and the dancer Niddy Impekoven.

As a costume designer she was especially busy for the theater in the 20s and she created the costumes for some classic plays.

The personality of Lotte Pritzel was as fascinating for her environment like her works. She moved in the circle of then well-known artists, among them Rainer Maria Rilke.

With the success she also came in touch with the then actual drug which not only affected her health but also her artistic creative power. Her success diminished and finally faded slowly in the 30s.