Nils Prien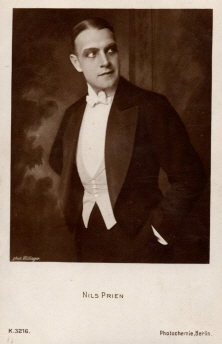 Foto: Wilhelm Willinger (1879-1943)

? - ?
.
.
The actor Nils Prien was a stage actor in the first place who only appeared seldom in the film business.

He played the role of Henry Felix in Paul Leni's "Prinz Kuckuck" (19) with Conrad Veidt, Olga Limburg, Magnus Stifter, Max Gülstorff, Paul Biensfeldt, Wilhelm Diegelmann, Fritz Junkermann, Hanna Ralph and Margarete Kupfer.

For Fritz Lang he impersonated the figure Olaf J. Anderson in "Harakiri" (19) at the side of Paul Biensfeldt, Lil Dagover, Georg John, Rudolf Lettinger and Loni Nest.

His last cinematical work was Leo Lasko's "Va banque" (20) with Paul Biensfeldt, Hugo Flink, Charles Willy Kayser, Fritz Kortner, Meinhart Maur, Edith Meller and Gerhard Ritterband.