Viktoria Pohl-Meiser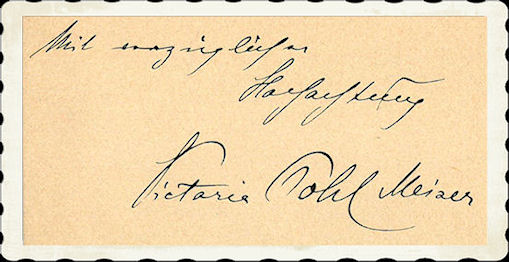 1858 - 1936
.
.
The actress Viktoria Pohl-Meiser worked successfully at the theater for many years when she joined the film business in 1915.

In the movie "Der Meineidbauer" (15) she played the role of Meiser Burgerliese at the side of Hermann Benke, Margarete Neff and Hermann Romberg. The movie was directed by Jakob and Luise Fleck.
In the same year she played again for Jakob and Luise Fleck in "Mit Herz und Hand fürs Vaterland" (15) with Hubert Marischka, Liane Haid, Hermann Benke and Max Neufeld.

It followed other movies like "Einen Jux will er sich machen" (16) as Mrs. Blumenblatt with Ida Russka, Leopold Strassmayer, Paul Morgan and Max Brod and "Das Irrlicht im Osten" (19) with Ludwig Herold and Willy Godlewski.

Her last cinematical works came in the 20s into being with "Bruder Matin" (20) with Eugen Jensen and Leopold Strassmayer, Richard Oswald's "Das vierte Gebot" (20) as Mrs. Schön with Hans Homma, Louis Ralph, Ferdinand Bonn, Josef König and Werner Schott, "Der Feuertod" (20) with Karl Baumgartner and Franz Ferdinand as well as "Ssanin" (24) at the side of Magda Sonja, Oscar Beregi, Hans Moser, Hans Marr and Robert Valberg.