Gotthelf Pistor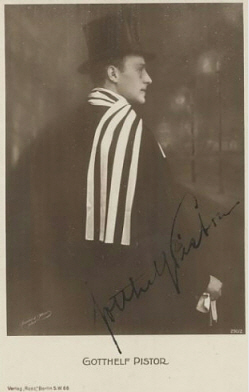 Foto: Becker & Maass (Atelier 1902-1938)
1887 - 1947
.
.
The actor and singer Gotthelf Pistorwas active at the theater in the first place.
He had engagement at the Stadttheater in Brandenburg, at the operetta theater Berlin, at the operetta theater Hamburg and at the Stadttheater in Nuremberg.

He only took part rarely in movies.

He impersonated his first role in front of the camera for the production "Das Geheimnis der Wera Baranska" (19) at the side of Reinhold Schünzel, Wanda Treumann and Paul Hartmann.

His last movies already followed in 1920 with "Die Erbschaft der Inge Stanhope" (20) directed by Rudi Bach. To his co-stars belonged Gustav Bergholz, Rita Parsen, Willy Strehl and Vilma von Mayburg.