Hedy Pfundmayr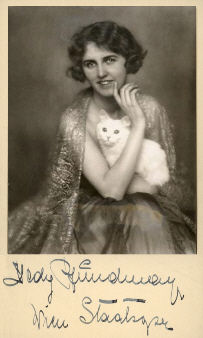 Foto: D'Ora Kallmus (1881-1963)
Mit freundlicher Genehmigung
Österreichische Nationalbibliothek Copyright

1899 - 1965
.
.
The dancer and actress Hedy Pfundmayr got an education at the Staatsoper in Vienna where she also got her first engagement in 1915. There she worked her way up the ladder and finally she beame a principal dancer in 1920.

She was engaged by Heinrich Kröller in 1922 for whose modern oriented ballet performances and they worked together for the next six years. Thank to her mimic and dancing abilities she was predestinated for this concept.
She took part in many popular performances subsequently, often together with the dancer Tilly Losch.

In 1928 followed a collaboration with Sasha Leontjew and they went together to Buenos Aires where she appeared at the Theatro Colon.

Hedy Pfundmayr was very interested in the New Dance and it was a welcome extension to her classic dance education.
Beside it she also appeared as a principal dancer in pantomimic roles.

Hedy Pfundmayr also took part in few movies. Her first movie was "Lucifer" (21) where she played at the side of Anita Berber and Edith Maria Claar. She played a dancer in the production "Pratermizzi" (27) directed by Gustav Ucicky and Karl Leiter with Nita Naldi, Anny Ondra, Hugo Thimig and Igo Sym. In this movie she was the doble for the dancing scenes of Nita Naldi.

Her last appearance in front of the camera was for "Silhouetten" (36) with Poldi Dur, Annie Markart, Fritz Imhoff and Ernst Arnold. Here she played the role of Toinette.
For "Silhouetten" she was also responsible for the choreography for the first time, an activity she carried on later for other movies.
She was engaged as a choreographer for the movies "Wiener Blut" (42) with Willy Fritsch, Hans Moser, Maria Holst and Theo Lingen, "Der weisse Traum" (43) with Olly Holzmann, Elfriede Datzig, Wolf Albach-Retty, Oskar Sima and Fritz Imhoff as well as "Die goldene Fessel" (44) directed by Hans Thimig with Hans Holt, Friedl Czepa, Erik Frey, Attila Hörbiger and Hermann Thimig.

Besides her activity in movies and ballets she was also a dancing teacher at her own dance studio she founded in 1928. Furthermore she also used the pseudonym Hedy Nils for her appearances together with Tony Birkmeyer.