Hans Pebal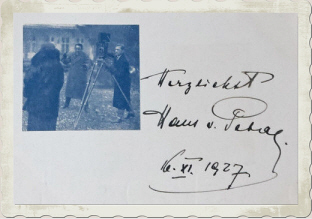 1896 - 1953
.
.
The cinematographer Hans Pebal often worked as a cameraman for newsreal for Fox and he realised numerous broadcasts in the 30s. He was regarded as a henchman of the National Socialists.

Despite this past he was able to continue his career as a cinematographer for TV productions after World War II.

For the cinema he was only seldom active as a cinematographer.
To these few works belong the productions "Zaraza" (22) with Zofia Savelli and Mery Mitra as well as "Das verlorene Ich" (23) directed by and with Hugo Werner-Kahle, Paul Kronegg and Annemarie Steinsieck.

He published his book "Ein Filmreporter erzählt...Seltsame Wege und Erlebnisse" in 1948 which tells about his experiences for his work for newsreals.