Jean-Paul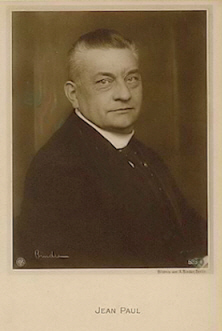 Foto: Alexander Binder (1888-1929)
? - ?
.
.
The actor Jean-Paul was active at the theater for the main part and he only appeared sporadically in movies.

Because his first cinematical works can be backdates to 1908 Jean-Paul belonged to the movie pioneers of the German film.
To his first movies belong "Der Rastelbinder" (08) and "Allein" (08).

It followed a longer interruption before he took part again in few more movies.
To these productions belong "Habakuk" (18) with Senta Söneland, "Bastelmeyers Abenteuer" (18) and Gerhard Dammann's "Das Kaviarmäuschen" (19) with Josefine Dora and Dora Hrach.