Evi Panzner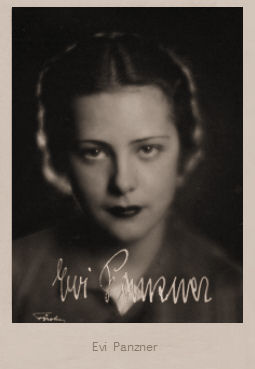 Foto: Ernst Förster (1879-1943)
1917 - ?
.
.
The actress Evi Panzner began her career at the theater before she took part in her temporary only movie in 1934.

In Max Neufeld's "Ein Stern fällt vom Himmel" (34) she impersonated the role of Annerl Bachinger at the side of Joseph Schmidt, Egon von Jordan, Herbert Hübner, Rudolf Carl and Karl Skraup.

Afterwards followed a long interruption before she continued her film career after World War II with two more movies.

She took part in the Austrian-American production "The Magic Face" (51) directed by Frank Tuttle with Luther Adler, Patricia Knight, Rolf Wanka, Erik Frey and Heinz Moog and in the same followed Georg Jacoby's "Das Herz einer Frau" (51) with Marianne Schönauer, Walter Müller, Rudolf Carl, Joseph Egger and Maria Eis.