Ilse Palm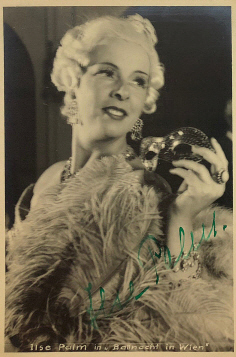 Foto: Hanns Holdt (1887-1944)

? - ?
.
.
The actress Ilse Palm was in the middle of the 30s a rare guest in the film business.

In her first movie "Henker, Frauen und Soldaten" (35) she took part at the side of Hans Albers, Charlotte Susa, Jack Trevor, Ernst Dumcke, Aribert Wäscher, Hubert von Meyerinck, Otto Wernicke, Gustav Püttjer, Gerhard Bienert, Bernhard Minetti, Oscar Marion, Paul Rehkopf and Fita Benkhoff.

Afterwards she impersonated again a small role in the production "So weit geht die Liebe nicht" (37) directed by Franz Seitz with Lucie Englisch, Maria Paudler, Joe Stöckel, Theodor Autzinger, O.E. Hasse and Paul Westermeier.