Ferdinand Onno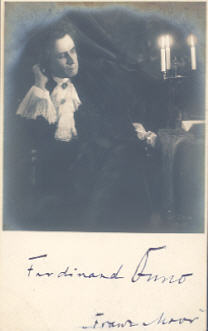 1881 - 1969
.
.
The actor Ferdinand Onno was a very busy and successful actor on the stage, in movies he only appeared sporadically.

He was born as Ferdinand Onowotschek in Czernowitz. After he had made a name for himself he made his film debut in 1919 with "Menschen, die ihr Glück verspielen" (19), it followed "Der Narr seines Herzens" (20) and "Die Frau in Weiss" (21) at Liane Haid's side.

In the next came only few more movies into being, to these productions belong "Olga Frohgemut" (22) directed by the duo Jakob and Luise Fleck, "Ludwig II" (22), "Der junge Medardus" (23) directed by Mihaly Kertesz who later became famous in Hollywood as Michael Curtis and "Die Sklavenkönigin" (24), again directed by Mihaly Kertesz.

Afterwards he dedicated again to the theater exclusively.