Matthias Olschinsky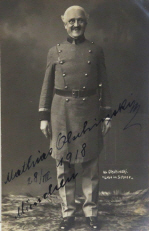 ? - ?
.
.
The actor Matthias Olschinsky felt at home on stage and he only appeared seldom in the film business.

His first appearance in front of the camera was for the silent movie "Lyas beste Rolle" (21) with Lya Ley and the then unknown Oskar Karlweis who also made his film debut with this production.

It lasted 13 years before he took part again in a movie. His role as the general in "Stosstrupp 1917" (34) with Beppo Brem and Ludwig Schmid-Wildy was his last movie at the same time.