Maria Nicklisch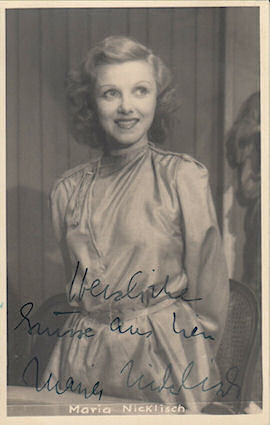 Foto: Hanns Holdt (1887-1944)

1904 - 1995
.
.
The actress Maria Nicklisch only appeared seldom in front of the camera, she normally acted on the stage.
To her few movies belong "Salonwagen E 417" (39), "Kitty und die Weltkonferenz" (39), "Der siebente Junge" (41) and "Kamerade" (41).

After that followed a long interruption before she made her comeback in 1967 with "Liebe für Liebe" (67).
Her last cinematical works was for an episode for the TV serial "Faust: Vom Himmel durch die Welt zur Hölle" (88).