Carola Neher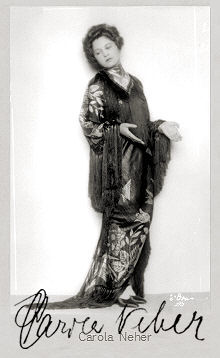 Foto: D'Ora Kallmus (1881-1963)
Mit freundlicher Genehmigung
Österreichische Nationalbibliothek Copyright

1900 - 1942
.
.

The actress Carola Neher began her cinematical career as a bank clerk before she fulfilled her dream to become an actress.
She got her first stage engagements at the theater Baden-Baden in 1920 and in the next years followed other theater engagements in cities like Nuremberg and Munich.

She managed her breakthrough in Breslau were she appeared at the Lobe-Theater for several years. There she also met the writer and they got married in 1925.

Carola Neher already took part in a movie in 1923 for the first time. She impersonated a small role as a guest in a café in "Mysterien eines Frisiersalons" (23) with the legendary comedian duo Karl Valentin and Liesl Karlstadt. Although playing a small role was Max Schreck in this movie. He went down in film history with his role in "Nosferatu".

The film business remained an irrelevant fact in the career of Carola Neher.
She went to Berlin in 1926 where she was albe to go on from her former successes and she appeared among others in Bert Brecht's "Die Dreigroschenoper" (29) von Bert Brecht. Brecht wrote other roles for her inhis plays "Happy End" and "Die heilige Johanna der Schlachthöfe".
Other popular stage plays followed with "Geschichten aus dem Wiener Wald" and "Ich tanze um die Welt mit dir".

At the beginning of the 30s she got offered again few movie parts and she played the role of Marthe Ellmer in Richard Löwenbein's "Zärtlichkeit" (30) with Karl Ludwig Diehl, Paul Otto and Georg Alexander as well as Polly in "Die 3 Groschen-Oper" (31) directed by Georg Wilhelm Pabst with Rudolf Forster, Reinhold Schünzel, Fritz Rasp, Valeska Gert, Lotte Lenya, Hermann Thimig, Vladimir Sokoloff, Paul Kemp and Gustav Püttjer.

After the premature dead of her husband Alfred Henschke she got married with Anatol Becker. They shared the same political view and supported the communism. Carola Neher was also a joint signatory of an appeal against Adolf Hitler in 1933.

Afterwards she left Germany and first went to Prague where she continues her stage career at the Neues Deutsches Theater.
Finally they went to the Soviet Union where she again was able to continue her artistic career.
During the chivy by Josef Stalin - the so-called "Great terror" - Carola Neher and her husband Anatol Becker were arrested in 1936. In the ensuing year her husband was executed as a Trotzki symphatizer and Carole Neher was sentenced to ten years in a labor camp.

It followed a hard time in a Russian gulag, finally she was interned in Oryol. When the German army occupied the camp Carola Neher was brought to Ilelz near Orienburg where they put her in prison. There she died at the age of only 41 because of typhus in June 1942.