Gustav Müller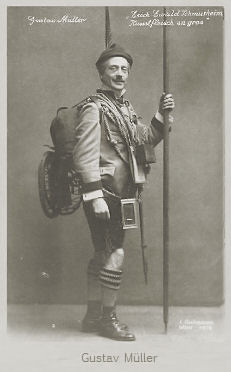 Foto: Ludwig Gutmann (1869-1943)
? - ?
.
.
The actor Gustav Müller began his career at the theater before he entered the film business in 1915.

He made his film debut with "Das Kriegspatenkind" (15), it followed the movies "Einen Jux will er sich machen" (16) and "Das Kind meines Nächsten" (18).

He took part in few more silent movies of the 20s, among them "Gustav's Leidensweg" (20), "Küssen ist keine Sünd'" (26), "Glück bei Frauen" (28) and "Dienstmann Nr. 13" (28).

His last cinematical works came in the sound film era of the 30s into being where he appeared again in few productions.
To these works belong "Purpur und Waschblau" (31), "Wiener Zauberklänge" (31), "Der Prinz von Arkadien" (32) and "Der Musikant von Eisenstadt" (34).