Josef Moser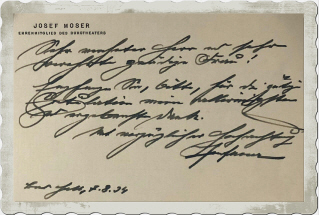 1864 - 1936
.
.
The actor Josef Moser took part in few movies at the beginning of the 20s.

His first movie was "Die Geheimnisse von London" (20) directed by Richard Oswald with Tibor Lubinszky, Louis Ralph, Josef König, Max Devrient, Julius Strobl, Adolf Weisse, Hans Homma and Ferdinand Bonn.

Afterwards he impersonated King Jacob II of England in "Das grinsende Gesicht" (21) with Franz Höbling, Nora Gregor, Anna Kallina and Eugen Jensen and "Das Geld auf der Strasse" (22) at the side of Reinhold Schünzel, Liane Haid, Eugen Klöpfer, Hugo Werner-Kahle, Max Ralph-Ostermann, Alfred Neugebauer, Robert Valbert and Jaro Fürth.