Avrom Morewsky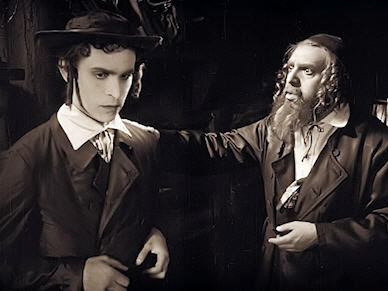 Lichtbild aus "Das alte Gesetz" 1923 (on the right)

1886 - 1964
.
.
The actor Avrom Morewsky was a rare guest in the film business.
He had first appearances in front of the camera for the silent movies "Das alte Gesetz" (23) directed by Ewald André Dupont playing the role of the rabby Mayer with Henny Porten, Ruth Weyher, Hermann Vallentin, Ernst Deutsch, Werner Krauss and Jakob Tiedtke and ass Eldor Vartalun in Johannes Guter's "Der Turm des Schweigens" (25) at the side of Xenia Desni, Nigel Barrie, Hanna Ralph, Fritz Delius, Hermann Leffler and Jeny Jugo.

Afterwards it lasted till 1936 before he took part again in few movies.
He played a rabbi in the Polish production "Al khet" (36) spielte er den Rabbi. To his co-actors belonged Rachel Holzer and Shimen Dzigan. The movie was shot in Yiddish.

His last movie was "Der Dibuk" (37), again a Polish production shot in Yiddish. Here he played the rabbi Ezeriel ben Hodos.