Dene Morel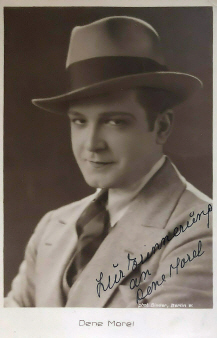 Foto: Alexander Binder (1888-1929)

1901 - 1928
.
.
The actor Dene Morel was busy in the film business of the 20s for a brief time.

He impersonated first roles in "Alpentragödie" (27) as prince René at the side of Arnold Korff, Lucy Doraine, Wladimir Gajdarow, Fritz Kortner and Eugen Neufeld as well as in the role of Alan in "Die Spielerin" (27) with Harry Liedtke, Agnes Esterhazy, Frida Richard and Gertrud de Lalsky.

In the next years he only took part in the productions "Marquis d'Eon, der Spion der Pompadour" (28) directed by Karl Grune. Here he played Lord Hatfield with Liane Haid, Fritz Kortner, Alfred Gerasch, Agnes Esterhazy and Mona Maris. Afterwards he impersonated the novice Paulus in Franz Seitz's "Hinter Kostermauern" (28) with Georg Jacoby, Georg Henrich, Carl de Vogt, Ferdinand Martini, Josef Eichheim and Philipp Manning and as Charlie Toddie in Victor Janson's "Ein Mädel mit Temperament" (28) with Maria Paudler, Eugen Neufeld, Paul Biensfeldt, Grit Haid and Curt Vespermann.

Shortly afterwards Dene Morel died at the age of 27 (Source IMDB).