Hans-Joachim Möbis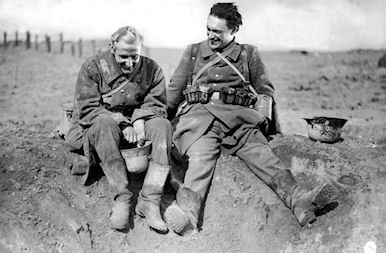 Lichtbild aus "Westfront 1918" 1930 (on the left)

1908 - 1935
.
.
The actor Hans-Joachim Möbis began his artistic career at the theater where he appeared among others at the Volksbühne in Berlin.

He joined the filmbusiness in 1930 and he impersonated in his first movie a student in G. W. Pabst's "Westfront 1918: Vier von der Infanterie" (30) with Fritz Kampers, Gustav Diessl, Claus Clausen and Else Heller.

Afterwards he took part in the productions "Der Mann, der den Mord beging" (31) directed by Michael Curtiz with Conrad Veidt, Trude von Molo, Heinrich George, Friedl Haeflin, Frida Richard, Friedrich Kayssler, Erich Ponto and Bruno Ziener as well as "Yorck" (31) directed by Gustav Ucicky at the side of Werner Krauss, Grete Mosheim, Rudolf Forster, Gustaf Gründgens, Lothar Müthel, Friedrich Kayssler, Walter Janssen, Theodor Loos, Paul Otto, Otto Wallburg and Jakob Tiedtke.

Hans-Joachim Möbis is not identical with the actor Hans Möbus.