Frida Meyer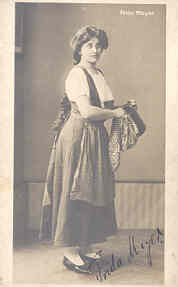 1882 - 1955
.
.
The actress and singer Frida Meyer was a busy stage actress in the first place. After a study in singing at the Hochschule for Music in Berlin from 1906 to 1907 she was an active opera singer in Königsberg, Darmstadt and Berlin.
Her only appearance in front of tha camera came in 1927 into being with the movie "Die von der Sanitätskolonne" (27).

After World War II she moved to Israel with her husband where she died in 1955.